We are Lori and Roger Warner and we raise Bernedoodle puppies in beautiful Kendrick, Idaho.
We use the Puppy Culture System of Raising Puppies, which contributes to the puppies staying true to their owners as confident and caring companions.
Cedar Ridge Bernedoodles are exposed to a versatile environment beginning with ENS shown here: Puppy Socialization Starts with the Breeder: Early … in addition to the western outdoors and people of all ages loving and caring for them. Using our resources, we strive to obtain good responses from our puppies and teach them problem solving resulting in them being well acclimated to a variety of social and emotional situations.
A Bernedoodle is a cross between a Bernese Mountain Dog (Dam) and a purebred Standard Poodle (Sire).  The Bernese Mountain Dog was used as an all purpose farm dog for guarding property and to drive dairy cattle long distances. Bernese shed all year. These floppy dogs are gorgeous, superb guardians that love to make their owners happy and they are very affectionate when around children.  Bernese are well behaved indoors, also like to be outdoors, adore hiking, are very eager to learn, and have a playful personality.
Poodles have a single layer coat that does not shed much and are hypoallergenic. They have exceptional swimming ability and are military working dogs, as they can be trained to ignore gunfire.  Standard poodles are wickedly smart dogs of remarkable versatility making them easy to train.  The Standard, with the greatest size and strength, is the best all-around athlete of the poodle family.
Crossing the Bernese and the Poodle results in a healthier dog with little to no shedding.  The Teddy Bear look, intelligence and eagerness to please make them the perfect family pet.
Our puppies will grow to be 80 to 110 pounds. It's recommended that your Bernedoodle be groomed approximately every 8 weeks to keep their coat in optimum condition and free from allergens.
We recommend you continue with the same high quality nutritional food your puppy has been eating, click on this link to order (Use code INTRO4U20 to save 20%)                       www.pawtree.com/CedarRidgeBernedoodles
Oakley was born January of 2020, she is a registered Bernese Mountain Dog and weighs in at 100 pounds. She is very smart, loving, loyal, and loves to be near people.
Our adorable puppies will be ready for their new home December 3rd, 2023.  To inquire about purchasing a puppy, please contact us.
Oakley has been genetically tested through Paw Prints Genetics. Click below to view her health certificate.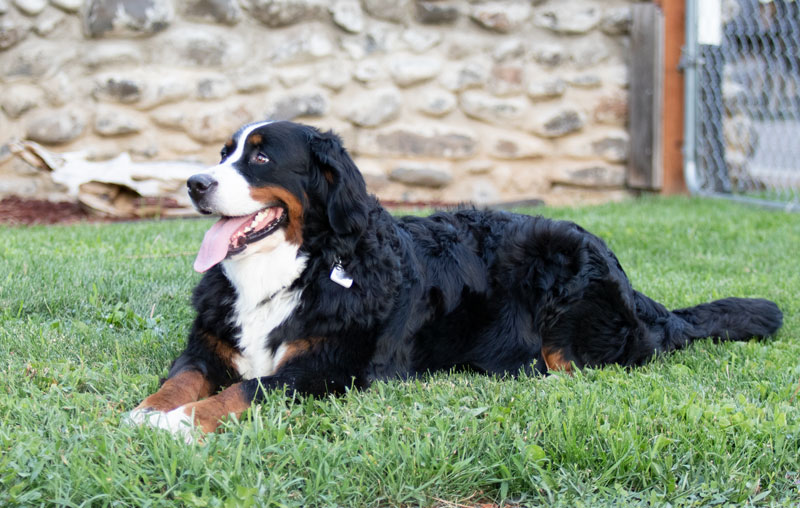 Meet George, our litter sire.
George was born in July 2019, and he is a brown standard poodle. 
His color genetics are: E/E, Ky/Ky, Ay/at, b/b, D/D, F/F. He is clear on his genetic tests through Paw Prints Genetics. He has had his hips and elbows evaluated by OFA, and both are excellent.
Georg has sired all of Oakley's litters, and we are thrilled with the quality of these pups!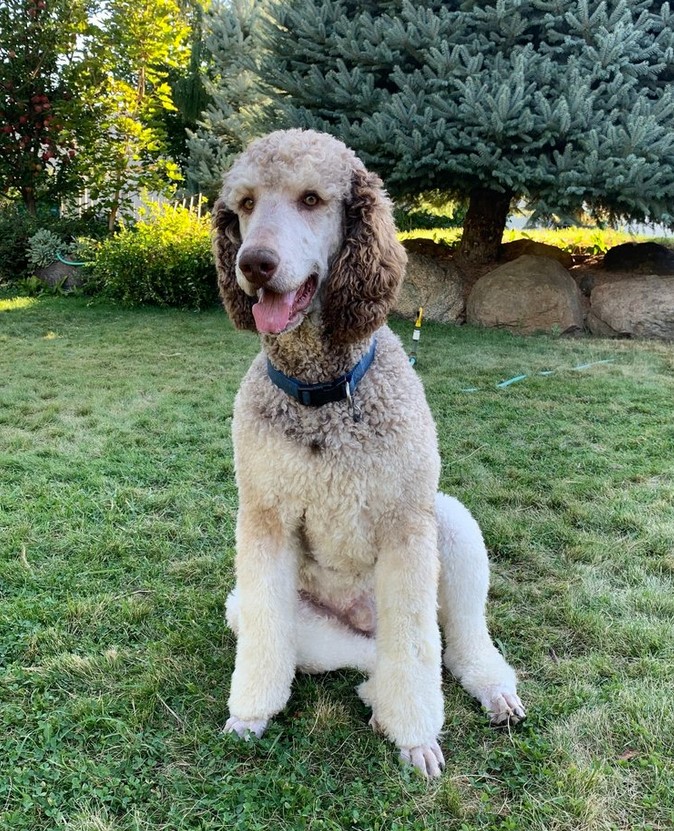 Are you ready to adopt your puppy?
Each Bernedoodle puppy is $2500. These puppies are not sold with breeding rights, instead they are intended to be pets or to be trained as support animals.
Dewclaws will be removed at 3 days of age and they will be dewormed beginning at 2 weeks and then in 2 week intervals until they go to their new home. They will have vaccinations and a vet check at 6 weeks, and they will be microchipped.
Puppies will go home after they are 8 weeks of age. I will send puppies home with a puppy packet.  The packet will include a blanket with mommy's scent, a training clicker, a collar and leash. 
Puppies can be picked up or delivered:
Pick up from my home for no additional charge
Delivered to you upon agreed arrangements. I am willing to drive a puppy to you anywhere in the Northwest. Price will depend on location, but will be a minimum of $200
I am willing to fly a puppy to an airport agreed upon by both parties. Cost of flight plus $200 for every day of travel
If you choose to fly your puppy home, I can meet you at the Pullman-Moscow Regional Airport or Lewiston-Nez Perce County Regional Airport at no additional charge. You will need to make the travel arrangements and have a carrier approved by the airlines       Flight arrangements cannot be made for puppy that is older than eight weeks old